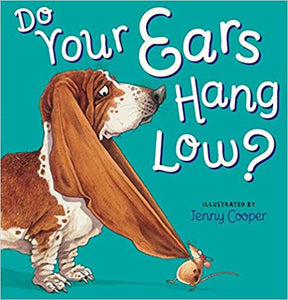 The delightfully silly song comes to life in a hilarious picture book—complete with a mirror on the final spread!

Do your ears hang low?
Do they wobble to and fro?
Can you tie them in a knot?
Can you tie them in a bow?

Most kids and parents know and love the song "Do Your Ears Hang Low?"—and Jenny Cooper's utterly adorable illustrations will have everyone singing with joy! A little mouse leads the fun as it plays with a bloodhound's floppy, silky ears; a llama's perky, fuzzy ones; the saggy, soft ears of a lop-eared rabbit; and the flappy, happy ears of a lively piglet. A mirror at the end invites children right into the book, and entertaining "ear" facts complete the picture!