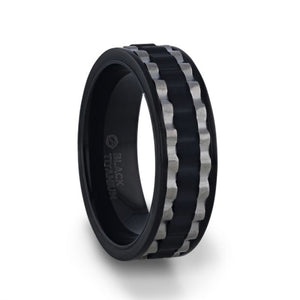 GEAR Two Toned Wavy Centered Brushed Black Titanium Men's Wedding Band With Flat Polished Edges - 8mm

Rage with the machine. This illustrious men's wedding band features two-toned and wavy GEAR-like inlays. With a brushed, waved, and slightly-raised black zirconium center, and sharp, clean edges the whole thing gives an industrial feel like no other. It comes in an 8mm width and several sizes.
Available in 8mm width.
Black titanium band with wavy gear inlays and matching, wavy black zirconium center.
Titanium is one of the most durable materials, and it's stronger than gold, platinum, and steel.
Titanium is nickel-free and hypoallergenic, so it's safe for sensitive skin.
Size 11