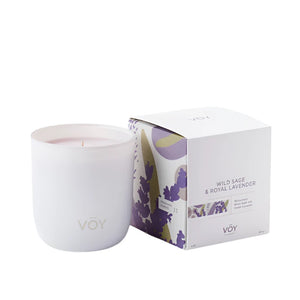 Aromatics: Herbaceous Minty Wild Sage & Royal Velvet Lavender
A walk along the Mediterranean coast on a hot summer day, the air is filled with toasty herbs emitting a camphoric medley of Lavender, White Sage, Rosemary, Chamomile, deep rich woods and soft wildflowers topped off with spicy Clove leaf.
Top Notes: Lavender, White Sage
Middle Notes: Chamomile, Soft Floral
Base Notes: Herbs, Rich Woods
Essential Oils: Rosemary, Sage, Clove Leaf
Voy premium vegan soy-blend candles are meticulously curated with high-end custom fragrances and essentials oils and beautifully presented in sustainable gift-packaging.
Made in the USA.