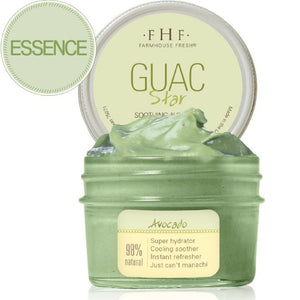 Get quenched and chill out with this deep dip of cool hydration! This revitalizing mask is among our Top 2 Best Sellers! It's packed with fresh avocado butter, extract and oil from California-grown non-GMO creamy avocados to deliver key fatty acids to support the outermost layer of skin that helps protect us from environmental stresses. It's love by SO many -- featured in Teen Vogue for 
"helping calm and reduce redness"
 and in Essence magazine 
"to combat dryness and inflammation"
.
Put Guac Star® in the fridge and try it chilled! Wow! It's better than a cucumber compress! Avocado's smorgasbord of vitamins B5, B6, K, E, and C, copper, folate & potassium and its naturally high moisturization factor completely comfort and nurture skin.