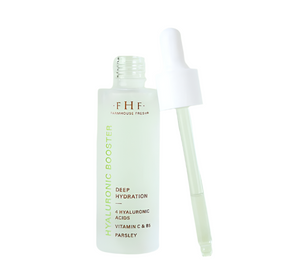 What it is: 
Invisible, deeply hydrating under-layer, with 4 targeted forms of Sodium Hyaluronate, each with unique properties, that build up to form a three-dimensional network to moisturize and hydrate skin.
Why you'll love it: 
Its water-like consistency is exceptionally powerful in bringing a visibly refined, healthy, calmed appearance - even with acne. Skin looks vibrant and new from brightening vitamin C, replenishing vitamin B5 and antioxidant-rich organic parsley extract grown on our farm.
What fans say:
 After 14 days, consumer perception tests wow'ed! 3 out of 4 participants agreed their overall appearance is visibly improved, and their skin looks and feels plumped, more hydrated and rejuvenated. See more test results at inset left. "I have tried other serums. This is just the right combo of moisturizing and sinks into my skin immediately!! Love it!!"