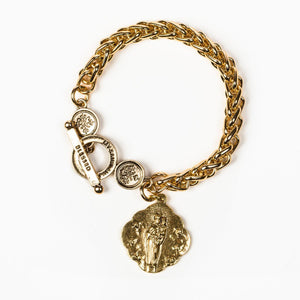 Queen of Heaven
Surrounded by angels, Our Blessed Mother, the Queen of Heaven, holds her child, shining like the sun. Just so, she holds us close and keeps us safe in her protecting arms. Wear this bracelet as a reminder to allow her loving presence to be active in your life.
Silver or gold dipped chain bracelet with a silver or gold dipped My Saint My Hero toggle clasp and a Queen of Heaven medal.
7.5" bracelet (toggle measures 1").
In a box with an inspirational card.