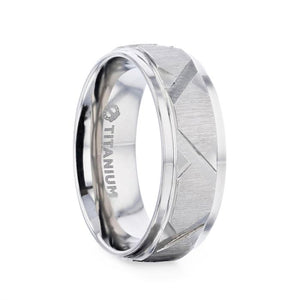 VIRAGE Raised Horizontal Etch and Diagon-Shaped Cuts Centered Titanium Men's Wedding Ring With Polished Step Edges - 8mm

Raise your level. The VIRAGE Titanium men's wedding ring has polished, stepped edges that surround a raised center band. Horizontal etching and diagonal-shaped cuts cross-cross down the center, elevating its style and nobility. It's available in an 8mm width and several sizes. Never before has there been a more masculine and bold design.
Available in 8mm width.
A raised center with horizontal and diagonal etchings, which sits above polished, stepped edges.
Titanium has much higher durability than gold, platinum, and steel.
Since Titanium does not contain nickel it's hypoallergenic.
Size:  11